I just redid my intake manifold gasket, again, after getting the P0171 error code with CEL. I have put about 40k miles on the truck since I did the first IMG. The inside of the manifold was cleaner though still grimy. The EGR tube was almost completely blocked; I cleaned it out with an old motorcycle clutch cable.
I replaced all of the items mentioned below in 3 and 4 and it took me a full day's worth of work plus cleaning time and cost right around $225 for parts, using aftermarket parts. The truck seems to be running quite well after this batch of work.
Fel-pro has revised their gaskets and the new design seems MUCH better. They are made out of some sort of polymer/fiber mix which has the consistency of saddle leather. I torqued mine to the original 18 ft-lb torque as it looks like this design will serve well with a bit more compression.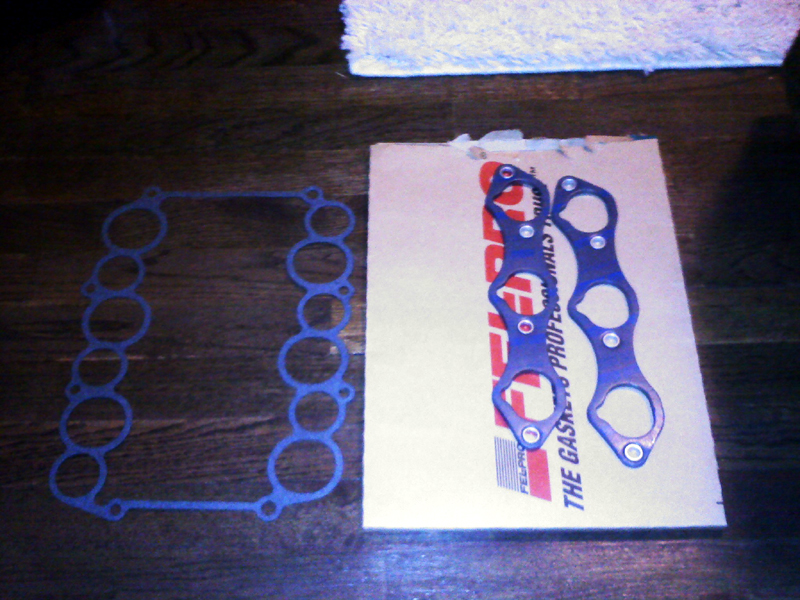 Some additional things to consider when replacing your gasket:
1. The original TB mounting bolts only grab about a 1/4" worth of the intake. Consider replacing them with 55mm long versions to help avoid stripping. You'll need four M6x1.0 - 55mm bolts.
2. The factory service manual says to torque the TB bolts to 18 ft-lbs. This is too much torque for an M6 bolt in aluminum threads. "Tight is tight-enough" applies to these bolts.
3.
If you're simply replacing the IMG, you'll need:
a. Intake manifold gasket set
b. EGR gasket
c. Throttlebody gasket
d. Fuel injector o-rings
4.
While the manifold is off, also consider replacing:
a. Heater-hose o-rings (two, one at thermostat housing and one at coolant manifold)
b. Upper and lower radiator hoses
c. Thermostat
d. Thermostat bypass hose
e. Throttlebody coolant hoses (both)
f. Spark plugs
g. Serpentine belt and idler pulley
h. PCV valve and grommet
i. Vacuum hoses for FPR and vacuum manifold